While many guys are just as concerned with their physical appearance as women, few have the patience or desire to wear makeup on a regular basis. In fact, the time microblading saves one in his or her morning routine is what made the procedure so popular in the first place.
Last summer, Stoddard had his brows done by a makeup artist who used a toothbrush, a brow pencil and some brow gel to give him what he called "bossy brows." Although he was happy with the final look, Stoddard found it difficult to incorporate this into his daily routine.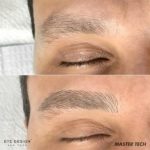 He quickly discovered that microblading, despite its somewhat deceptive name, promised to give him the freshly brushed-penciled-gelled brows without the hassle for about a year. A far cry from "permanent makeup," this semi-permanent technique provides the client with the best of both worlds.
While laughs are guaranteed throughout the video–you may have seen a clip on Vice's Snapchat–one takeaway stands apart from the rest: Stoddard's girlfriend, who was at first shocked and then later amused by his procedure, begins inquiring about the wonders Eye Design's team may be able to work on her own arches.
Think microblading might be the right option for you? Click here to make an appointment with us!
Tags: eye design , microblading, vice, eye design ny, permanent makeup, snapchat, social media, nadia afanseva, beauty, beauty blog, beauty blogger, semi-permanent makeup, eyebrows