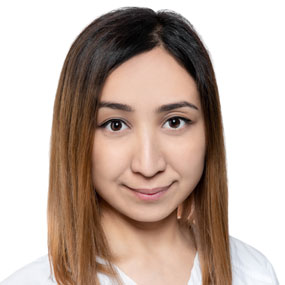 Earlier this year, the Eye Design studio introduced you to Dina, one of our newest technicians. Now, we are thrilled to welcome Aini, another new addition to our team!
Aini comes to our studio with plenty of experience in semi-permanent brows and lips, as well as eyelash extensions. Just like the rest of our team, including Dina, Aini trained one-on-one with our founder and Master Technician Nadia before we officially opened here schedule. And she will continue to be under Nadia's direct supervision while working at Eye Design! This is our studio's policy, and every technician abides by it.
As the newest member of the Eye Design family, Aini is an expert in all things brows and lips! Schedule her for your first-ever microblading, Powder Effect or Hybrid treatment, or for your next 12-month touch-up or beyond! This summer only, you will enjoy these semi-permanent eyebrow treatments at a discounted rate. Aini is currently an Advanced Technician here at Eye Design, which means a brow appointment with her will typically cost $690. With a 15-percent discount, you will pay only $586! (12-month touch-ups and beyond start at $510 with the 15-percent discount.)
If you are interested in semi-permanent lip makeup by Eye Design, now is the time to book your appointment! This treatment is the perfect next step after having your brows done by us, as well as a great way to introduce yourself to Eye Design's services. At $586 (originally $690), you won't find our expert technique at this low price again. Meet Aini and treat yourself–or a loved one!–to a dreamy semi-permanent brow or lash look!
You can also save when you book a lash appointment this summer! Both Aini and Dina are Senior Technicians for eyelash extensions. Discount pricing is as follows:
Natural Set, $170 (normally $200)
Glamour Set, $212.50 (normally $250)
Dramatic Set, $255 (normally $300)
Kim's Effect Set, $297.50 (normally $350)
Eyelash extensions are a must-have for summer! Unlike mascara, they last through heat, humidity, water and sweat without smudging or flaking. Eye Design's top-notch techniques, when combined with the best products on the market, allow our lash extensions to last 4 to 6 weeks or more! They are truly the highest quality option available.
In addition to eyelash extensions, Dina is an expert laser technician. With Dina in our studio, we were able to welcome Eye Design's first-ever skincare procedure, the Carbon Peel Facial! Normally $250, you will save 15 percent, or $38, when you book this summer!
The Carbon Peel Facial offers a deep cleansing treatment on the face, chest or back that eliminates acne and blackheads. It also stimulates the skin's production of collagen, leaving your skin tighter, firmer and more glow-y! With smaller pores and more elasticity, your skin will instantly feel refreshed and rejuvenated. While you will see results after just one 30-minute treatment, you are welcome to book four or more at a time for long-term results. (Note: Your first-ever Carbon Peel Facial will be booked for 60 minutes, to allow you time to discuss your skin and your desired results with the technician.)
Click here to learn more, or call Eye Design today at (917) 300-0317 for a free phone consultation + help booking your appointment(s)! We can't wait to see you save at our studio this summer.
Tags: eyelash extensions, , volume lashes , classic lashes , eye design , lash extensions , microblading, skincare, eye design ny, permanent makeup, nadia afanseva, eye design new york, carbon peel, carbon peel facial, microblading new york, carbon peel laser, laser facial